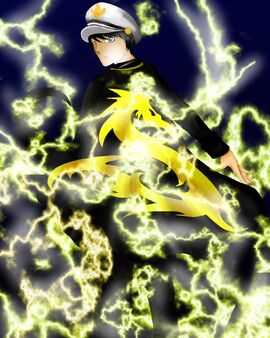 Lightning is one of the elemental forms of energy. It is, however, unlike all elements in that it is a manifestation of light energy. The light energy forms lightning because part of the user's soul mixes in with the body's energy pool, which results in the light energy forming lightning when it is expelled from the body. Therefore, it is impossible for non-lightning energy users to be able to produce lightning.
There are three types of lightning energy: blue, yellow, and red. Each of the three forms are very distinct in its properties and tendencies.
Blue Lightning
Edit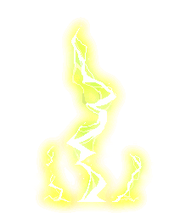 Calm and Collected | Blue lightning tends to form spherical shapes in its natural state, allowing the user to produce lightning orbs with concentrated lightning energy. Between the three forms of lightning, blue lightning is the easiest to manipulate and control.
Red Lightning
Edit
Violent and Explosive | Of the three forms, red lightning is the most reactive and violent. It is very difficult to control, as it tends to take explosive forms. It takes extensitve training in order to contain and effectively control red lightning. The payoff is that red lightning contains the most power.
Yellow Lightning
Edit
Quick and Deadly | Yellow lightning tends to take the form of chains, bolts, and lasers. It prefers linear arrangements in its natural state. Of the three types, yellow lightning is the quickest, expending energy in quick bursts.
Famous Users
Edit
Demon